Patti Rushing, LPC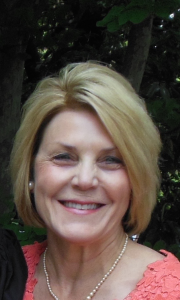 Patricia Rushing is a Licensed Professional Counselor. She holds a Bachelor of Arts degree in Elementary Education from the University of West Florida and a Masters of Education degree, in School Counseling, from Clemson University.
Patricia is originally from the Midwest, but has called Greenville her home for the last 32 years. She is proud to be the parent of 2 grown children, and a son-in- law, and daughter- in- law. She spends her spare time with family and friends. In quieter moments, Patricia can be found reading, gardening, and walking.
Patricia has 20+ years of professional counseling and teaching experience working in a school setting. She is passionate about meeting people where they are and providing empathetic, evidence- based therapeutic services to get them where they want to be. She believes everyone has the potential to live the life they desire. Patricia will provide a non-judgmental and supportive environment. She believes the key to therapy is in building an open, honest relationship. I work to help others grow in insight and awareness of their strengths in order to reach their goals.
Patricia's experience in education allows her to be well suited in working with children. Children today are commonly struggling with many issues which can manifest themselves behaviorally, emotionally, socially or spiritually. If your child is struggling with anxiety, depression, regulation, self-esteem, grief, divorce, trauma, social skills, executive functioning (time management and organization), cooperation, body image or conflict resolution skills; then therapy may be a great option for them. Sometimes when a child has a weakness in an area, learning and gaining confidence in that area may be just what they need.
When working with children she predominantly uses humanistic, cognitive behavioral therapy (CBT), attachment theory, mindfulness and play techniques. While CBT can be applied to address specific thoughts and behaviors, play techniques are the most appropriate means for children to express themselves, to communicate their inner world, and to learn and try on different roles, emotions, and ways of behaving. Also, she uses social skills to help learn specific areas of weakness.
Patricia also has experience in working with families, adolescents, young adults, and adults. She enjoys working with families to address and refine parenting strategies that are specific based upon the needs of their children. Some topics for families might include child rearing styles, limit and choice setting, technology use or communication skills.
Adolescence can be a challenging time for parents. Are they being disrespectful to you and others? Are they showing signs of anxiety or depression? All of these things are common concerns for parents of adolescents. As your teen is beginning to form their own identity in life and physically changing, it can cause a lot of stress on the family as a whole. In counseling Patricia will become an advocate for your child as well as a safe place for them to process the issues and pressures that they are facing. It may also be beneficial to facilitate conversations between you and your teen when you feel like all of your parenting efforts are falling onto deaf ears. I am here to help!
There are many reasons why young adults and adults choose to come to counseling. Patricia has experience with a wide range of client concerns including depression, anxiety, self-worth, OCD, divorce, parenting, grief, trauma, relationships, and stage of life concerns. Sometimes it can be beneficial to have someone else in your life that you can trust and express our feelings and thoughts to. Following our first few sessions, you and I will decide on a plan for treatment together, based on your individual needs.
Patricia's goal is for her clients to better understand themselves and others, experience joy, hope, and personal growth. Sometimes life takes us to places that we least expect, and we need a new perspective in order to get back on the right path. It takes extreme strength to admit our need for help. It would be my honor and privilege to walk alongside you through your highest and lowest points.
To contact or make an appointment with Patti, call 864-360-5195 or email Patti at Email.